Sugar Free Fruit Puddings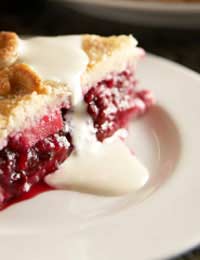 There are all sorts of fruit puddings that can be made without sugar. Here are recipes for just a few. Some are hot dishes that incorporate cooked or stewed fruit, another is a cold dish, fruit salad, which is perfect for a summer's day.Fruit is incredibly versatile and its benefit when trying to cook without sugar, is that it can often sweeten a dish naturally.
Blackberry And Apple Crumble
This is a true autumn favourite. Pick your blackberries yourself and use them in your sugar free fruit pudding when they are lovely and fresh. Traditional blackberry and apple crumble calls for a lot of sugar. Here, however, apple juice and sweet eating apples are enough to sweeten it.
Ingredients:
100g (4oz) butter
Two tbsp granulated sweetener (be sure to check manufacturer's instructions)
200g (7oz) plain flour
Five sweet eating apples
Half a pint of unsweetened apple juice
300g (10oz) fresh blackberries
Method:
Preheat your oven to 180 deg C/350 deg F/gas mark four. Take a large bowl, and in it rub together your butter, flour and sweetener until still lumpy but without pieces of greasy butter.
Wash your blackberries and remove any stalks or pieces of leaf. Peel, core and chop your apples. Place all your fruit in a large pan with your apple juice. Bring to the boil and gently simmer for five minutes.
Remove from the heat, pour into an ovenproof pie dish and sprinkle your crumble mixture on top. Cook in the centre of the over for about 20 minutes. Serve with sugar free custard or cream.
Sugar Free Fruit Salad
Take any fruits you like for this or change them with the seasons. Fruit salad is always best enjoyed once it has been standing in the fridge for a few hours. You can choose to serve it in individual glasses, topped with cream or cold sugar free custard.
Ingredients:
200ml fresh unsweetened orange juice
One lemon
200g (7oz) fresh strawberries
200g (7oz) fresh raspberries
200g (7oz) ripe melon
200g (7oz) ripe mango
Method:
Peel, core and de-stone your fruit. Rinse it and place it in a glass bowl with your orange juice. Squeeze your lemon and stir it in. Cover and chill in the fridge for a few hours before serving with cream or sugar free ice cream. Those who like a dash of alcohol in their puddings can add a nip of sherry to the dish.
Baked Apples
One large cooking apple per person
Handful of raisins
Several tsp honey
One tsp cinnamon
Preheat your oven to 180 deg C/350 deg F/gas mark four. Wash your apples and de core, cutting down from top, ensuring the rest of the apple remains in tact. Place a few raisins into the centre of each apple. Top the raisins off with a teaspoon of honey. Sprinkle the apple with cinnamon. Wrap each apple in foil, ensuring the shiny side faces in.
Bake in the centre of your oven for about one hour, or until soft. To serve, unwrap the apple and top each one off with a blob of whipped cream.
You might also like...