Old Fashioned Puddings Made Without Sugar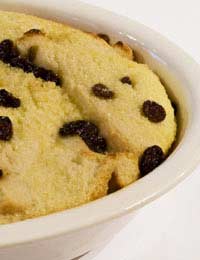 There's nothing like a heavy, sticky pudding to really fill you up. These recipes are all for good old-fashioned English puddings - and they can all be made without sugar.
Try them all with custard or cream. And if you really want a treat, why not spoon on a little extra sugar free jam!
Bread And Butter Pudding
An old favourite for those of a certain age! This pud is a great way for using up old slices of bread that are just a little stale.
Ingredients:
30g (1oz butter)
Six to eight slices bread
Two tbs granulated sweetener (check manufacturer's instructions)
30g (1oz) sultanas
Two tsp cinnamon
Half a teaspoon nutmeg
Two eggs
One pint of milk
Method:
Preheat your oven to 180 deg C/350 deg F/gas mark four. Take a large ovenproof pudding dish and grease with butter. Cut the crusts off your bread. Take the rest of your butter and spread it on to one side of each slice of bread. Place the bread face up on the bottom of the dish, sprinkle on some sultanas and cinnamon.
Do the same again until your dish is full. Beat your eggs with your granulated sweetener. Heat your milk and then slowly stir into your egg mixture. Pour the hot sauce over the bread layers, sprinkle with nutmeg. Leave to stand for five minutes before baking in the over for about half an hour, or until golden on top.
Sugar Free Jam Pudding
This is a great dish because you can vary the flavour by simply changing your sugar free jam. Once in a while, you try it with honey too.
Ingredients:
100g (4oz) self-raising flour
Two tbsp sugar free apricot jam
100g (4oz) butter
Two eggs
Four tbsp sugar free strawberry jam
Method:
Lightly grease a heat proof pudding basin. Into the bottom, spoon your sugar free strawberry jam. In a separate bowl, beat your eggs with your sugar free apricot jam. Slowly stir in your self-raising flour. Take your sponge mixture and carefully spoon it on top of the jam, taking care not to mix it in.
Cover your pudding basin with a circle of grease proof paper, making sure the sides overhang, and tie with string. Place in a large pan of water with a lid on top, bring to the boil.
Spotted Dick
This is another favourite from years gone by, a really filling pudding that your parents and grandparents would have enjoyed. It's always popular with those who love dried fruit.
Ingredients:
400g (12oz) plain flour
100g (4oz) suet (or vegetarian equivalent)
Three tbs honey
One tsp baking powder
150ml milk
150g (5oz) raisins
Method:
Take a large bowl and sieve your dried ingredients into it. Stir in your vegetable suet. Then add your milk and mix until you have a dough. Roll the dough out into a long oblong. Spread your raisins over the top then roll up into a tube. Wrap in a clean tea towel and steam in a large pan in boiling water for about an hour.
You might also like...