Sugar Free Custards and Hot Pudding Sauces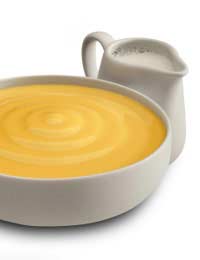 Sometimes good puddings just cry out for a delicious sauce and there are any number of sugar free versions for you to whip up. Try this recipe for sugar free real custard, for example, which is perfect with sugar free crumbles and pies.
Otherwise, how about a good old fashioned hot chocolate sauce? This is easy to make and is great with sugar free hot chocolate sponge - or even on its own.
Hot fruit sauces can be mouth-watering too. They often have a tasty, sharp flavour. Try them with slices of delicious homemade sugar free chocolate brownie or perhaps a piece of fresh cheesecake, with fruit on top. They are also delicious with ice-cream.
Sugar Free Real Custard
A real winter warmer, this is fabulous on old fashioned English puddings and pies. Some people even eat it cold once it has set a little in the fridge!
Ingredients:
One pint of full fat milk
Four egg yolks
One whole egg
Two tbsp granulated artificial sweetener (check manufacturers instructions)
One tsp vanilla essence
One tsp cornflour
100ml fresh cream
Method:
Take a large bowl and beat your egg yolks and egg. Add your granulated sweetener and cornflour, and mix well. Pour your vanilla essence in with your milk and bring to the boil.
Slowly add the hot milk to the egg mixture and stir well. Pour back into a large pan with your cream and stir until thickened. Enjoy with a hot or cold dessert.
Dark Chocolate Sauce
Definitely one for chocolate lovers, this sugar free recipe uses honey as a sweetener. Make it even more chocolatey by adding extra cocoa powder.
Ingredients:
100g (3.5oz) cocoa
Two tbsp honey
One tsp cornflour
One pint of milk
Method:
Melt your cocoa and honey together in a small pan over a low heat. Once melted, slowly stir in your milk. Place your cornflour in a side cup and spoon out some of your chocolately milk. Carefully stir the chocolatey liquid in, to make a paste. Add extra spoonfuls, making sure there are no lumps each time, until you have about half a cup full of cornflour and chocolate milk. Tip this mixture back into the pan. Keep stirring as your chocolate sauce thickens. Remove from the heat and pour over your favourite sponge pudding.
Sugar Free Hot Blackcurrant Coulis
This recipe is for a hot fruity sauce but you can serve it cold too. Try using raspberries instead of blackcurrants if you fancy a change. Blueberries or strawberries will also work well.
Ingredients:
300g (10.5) blackcurrants
Two tbs sugar free blackcurrant jam
One lemon
Half a pint of water
Method:
Wash your blackcurrants and remove any bits of leave of stalk. Squeeze your lemon. Place your fruit, juice, sugar free jam and water in a liquidiser (or blend in a large bowl with a hand blender). Whiz up together until there are no lumps. Heat gently but do not boil. Drizzle over a hot or cold dessert. Or serve it next to an icy cold scoop of sugar free vanilla ice-cream.
You might also like...