Sugar and Dairy Free Biscuits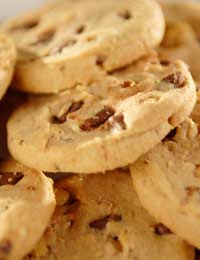 Those who try to avoid milk and other dairy products are likely to be used to cooking with dairy free margarine. They will probably also be used to checking labels to be sure the food product is suitable for them. But before embarking on any of these recipes they must remember to check the dairy free margarine pack carefully to make sure it is suitable for baking as well as spreading.
Once you have the right ingredients, however, both these biscuit recipes are quick and easy to follow. But do remember not to over-bake the biscuits otherwise they might become hard to bite into.
Dairy and Sugar Free Peanut Biscuits
If you enjoy nutty treats, you'll love these. Remember to buy a diary free peanut butter. Try a health or whole food store and ask for a product that has nothing in it but peanuts and peanut oil.
Ingredients:
150g (5oz) dairy free margarine
Four tablespoons of honey
Four tablespoons dairy free peanut butter
75g (2.5oz) plain flour
Method:
Start by preheating your oven to 180 deg C/350 deg f/gas mark four. Then take two flat biscuit trays and grease them with a small amount of your dairy free margarine. Take a small saucepan and over a low heat melt the rest of your dairy free margarine, along with your honey and peanut butter. Keep stirring until you have a nice brown liquid. Meanwhile, sieve your flour into a bowl. Then pour in the hot liquid. Stir until you have a good dough. Divide your mixture into small pieces and roll into round balls the size of conkers or large marbles. Place these on the trays, well spaced apart, then press down on top of each with a fork. Slide the trays into the oven and bake for about 10 minutes until golden brown. Remove from the heat and leave to cool before eating.
Sugar and Dairy Free Orange and Apricot Snaps
These biscuits make a nice light snack with a cup of tea or coffee but will also work well as a dessert accompaniment, perhaps alongside a dairy and sugar free ice cream? You could also try sandwiching a little vegan cream between them. The flavour is unusual but nevertheless delicious.
Ingredients:
The zest of two large oranges
The juice of one of the oranges
100g (3.5oz) plain flour
120g (4oz) dairy free margarine
Three tablespoons of sugar free apricot jam
Method:
Once again, preheat your oven to 180 deg C/350 deg f/ gas mark four. Then take two flat baking sheets and grease with a little of your dairy free margarine. Take a small saucepan and in it place your dairy free margarine, sugar free apricot jam and squeezed orange juice. Stir gently over a low heat until you have a nice smooth liquid. Keep stirring as you add the finely grated zest of one of your oranges. Take your plain flour and sieve it into a large bowl. Then stir in your hot liquid. Mix until you have a good dough. Lightly flour a clean surface then take your dough and roll into a sausage about six inches long. Take a sharp knife and slice into biscuit-sized circles no more than 5mm thick. Place these on your greased tray then slide into the oven. These biscuits need very little cooking. Check after seven minutes to see if they are beginning to brown. As soon as they start to change colour, remove from the oven and leave to cool and harden.
You might also like...