Quick Sugar Free Cookies for Kids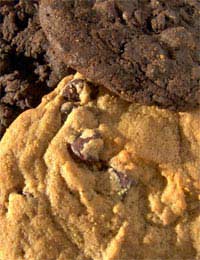 Kids love baking and nothing is more fun than making biscuits or cookies. These quick sugar free recipes help create biscuits that are healthier options than those packed with high quantities of white sugar.
As you make them with your children, explain what you are doing and how the sugar has been substituted. Encourage your youngsters to experiment a little and to have fun as they bake.
Sugar Free Chocolate Cookies
Everyone loves chocolate cookies. Those youngsters who enjoy a stronger chocolatey flavour can always increase the amount of cocoa in the recipe.
Ingredients:
350g (12oz) plain flour
100g (3.5oz) cocoa
250g (9oz) soft margarine
One tsp baking soda
A pinch of salt
Three tbsps sugar free strawberry jam
Two eggs
Method:
Preheat your oven to 180 deg C/350 deg F/gas mark four. Take your sugar free strawberry jam and cream in a large bowl with your margarine, until light and fluffy. Beat your eggs and stir into your margarine and sugar free jam. Sieve your plain flour and bicarbonate of soda, and stir in until you have a good chocolatey dough. Dust a surface with flour and roll your dough out. Using a circular cookie cutter, cut into round shapes. Place on a greased baking sheet and position in the centre of your oven. Bake for about 15 minutes.
Sugar Free Cut Outs
This kids' recipe makes basic biscuits that can be decorated at a later stage. It creates a good dough that should withstand being cut into different shapes using a variety of cutters.
Ingredients:
175g (60z) soft margarine
Three tbsps honey
Two egg yolks
250g (9oz) self-raising flour
Splash of full-fat milk
Method:
Preheat your oven to 180 deg C/350 deg F/gas mark four. Melt your honey and butter in a small pan. Leave to cool. Then beat your eggs and stir in. Sieve and add your self-raising flour until you have a dough you can easily roll out. If necessary, add a little full fat milk. Using whichever cookie cutters your children like, cut the dough into shapes. Position on a greased baking sheet and place in the centre of your over. Bake for about 15 minutes. Remove from the heat and leave to cool.
Sugar Free Fingers
This makes for a softer biscuit, something younger children might enjoy. Food colouring can be added for fun, to add interest as the children mix.
Ingredients:
250g (9oz) butter
Three tbsps sugar free apricot jam
One egg
150g (5oz) self-raising flour
100g (3.5oz) plain flour
Food colouring (optional)
Method:
Preheat your oven to 180 deg C/350 deg F/gas mark four. Beat your butter and sugar free jam together until light and creamy. Add a drop of food colouring or two if the youngsters want to. Beat your egg separately then add. Sieve your flours and then add. Spoon into a greased 18cm baking tray and bake for 20 minutes in the centre of the oven until a skewer comes out clean. Remove, leave to cool and slice into fingers. If you like, you could spread a little more sugar free jam on top.
You might also like...