Sugar Free Halloween Cakes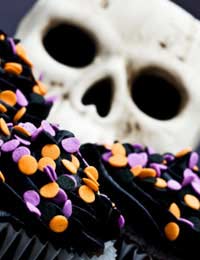 When it's time to get spooky, it's easy to go sugar free. Try these very different recipes for no sugar Halloween cake.Both taste delicious and will certainly go down well when served up on October 31. Encourage your children to get involved too. They'll certainly have fun when it comes to decorating the top.
Sugar Free Pumpkin Cake
This orange-coloured cake is perfect for Halloween as it uses pumpkin as its main ingredient. Try to find some small orange pumpkin faces to decorate the top with.
Ingredients:
150g (5oz) margarine
200g chopped dates
Two tbsp sugar free apricot jam
Three medium eggs
500g (1lb 1oz) pumpkin flesh
300g (10.5oz) plain flour
Two tsp bicarbonate of soda
Pinch of salt
One tsp ground nutmeg
For The Filling And Topping:
250g (9oz) cream cheese
Four tbs sugar free apricot jam
Method:
Preheat your oven to 180 deg C/350 deg F/gas mark four. Place your dates and pumpkin in a large pan, cover with cold water and bring to the boil. Simmer for five minutes. Cream your butter and jam in a large bowl until light and fluffy. Beat your eggs then stir in. When your pumpkin and dates are soft, stir into your mixture and whiz with a hand blender. Add your flour, salt, bicarbonate of soda and nutmeg. Grease a 20cm (eight ins) cake tin.
Spoon your mixture in and bake in the centre of your oven for about 40 minutes or until cooked all the way through, and a skewer comes out clean. Remove from the heat and allow to cool. Beat your cream cheese with your sugar free apricot jam. Once cool, cut your pumpkin cake in two. Spread your cream cheese mixture inside and on the top. Decorate with small, plastic orange pumpkins or other Halloween decorations.
Devil's Delight
This dark chocolate cake can be made all the more dramatic with vibrant red or green topping. Children will love its revolting appearance – particularly at Halloween!
Ingredients:
For The Cake:
115g (4oz) margarine
Three large tbsp honey
115g (4oz) self-raising flour
75g (2.5oz) cocoa
Three large eggs
For The Topping:
One 284ml (10 fl oz) pot whipping cream
Red or green food colouring
For The Filling:
Four tbsp sugar free blueberry jam
Method:
Preheat your oven to 180 deg C/350 deg F/gas mark four. Melt your butter and honey in a small pan. Sieve your flour and cocoa into a large bowl. Add your hot liquid and stir. Beat your eggs and then stir them in too. Grease an 18cm (seven ins) cake tin and then spoon in your mixture.
Bake for about 20 minutes until your sponge has risen and it is cooked all the way through. Remove from the heat and allow to cool for about 10 minutes. Turn out and allow to cool for another 10 minutes on a rack. Slice in two and spread your sugar free blueberry jam inside.
Empty your cream into a bowl and add food colouring until the desired shade is achieved. Then whip. Spread your "revolting" green or red topping on to the cake – and serve to visiting witches, wizards and ghosts.
You might also like...