No Sugar Sponge Cakes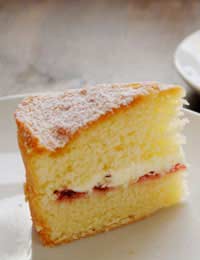 Sponge cakes are always a favourite. They can be adapted easily and work well in sugar free varieties. Different sugar free fillings can also be whipped up quickly.
These recipes make great birthday cakes or tea time treats. They are also popular at cake sales and children's parties.
Sugar Free Victoria Sponge
This light sponge is always a winner. Team it up with sugar free strawberry jam and whipped cream or make another delicious filling.
Ingredients:

150g (5oz) margarine
Three tbsp honey
Three large eggs
150g (5oz) self-raising flour

Filling

Two tbsp sugar free strawberry jam

Method:

Preheat your oven to 170 deg C/325 deg F/gas mark 3. Melt your margarine and honey in a small pan over a low heat. Then sieve your flour into a large bowl. Stir in the hot liquid. Beat your eggs and stir those in too. When thoroughly mixed, spoon the mixture into an 18cm (eight ins) cake tin.

Bake in the centre of the oven for approximately 30-35 minutes until risen and an inserted skewer comes out clean. Remove from the heat and leave to cool for 10 minutes.

Then turn out from the tin and place on a rack to cool further. Slice in half and spread with sugar free strawberry jam before replacing the top. Serve with whipped cream.

Raspberry Sponge Cake

This unusual sponge cake is a summer favourite. Again, try it with whipped cream or sugar free ice-cream.

Ingredients:

To Make The Cake:

120g (4oz) margarine
Three tbsp granulated sweetener
120g (4oz) self-raising flour
Three large eggs

For The Raspberry Sauce

25g (1oz) butter
100g (3.5oz) raspberries

Method:

Preheat your oven to 200 deg C/400 deg F/gas mark 6. Cream your butter and granulated sweetener. Beat your eggs and mix them in. Sieve your flour and stir it in.

Grease an 18cm (eight ins) cake tin. Melt your sauce butter in a small pan. Add your raspberries and cook gently for a few minutes. Pour into the bottom of your greased tin. Top with your sponge mixture.

Bake in the centre of the over for about 20 minutes, until firm to the touch. Turn out and serve with sugar free ice-cream.

Marble Sponge

This is a tasty sponge cake that youngsters and adults alike will love. Cut it into thin slices to make the most of the marble effect.

Ingredients:

150g (5oz) margarine
Three tbs honey
Three large eggs
150g (5oz) self-raising flour
75g (3oz) cocoa powder

Method:

Preheat your oven to 180 deg C/350 deg F/gas mark four. Melt your margarine and honey in a small pan over a low heat. Then sieve your flour into a large bowl. Stir in the hot liquid. Beat your eggs and stir those in too. Split your mixture in half, placing in two separate dishes.

Into one, sieve your cocoa powder and stir well. Slowly swirl your chocolate mixture into the plain mixture. Carefully place into a greased 18cm (eight ins) cake tin.

Bake in the centre of the oven for approximately 20 minutes until risen and an inserted skewer comes out clean. Remove from the heat and leave to cool for 10 minutes. Slice and serve.

What to Bake Next...

Why not try making a no sugar Carrot Cake...

You might also like...

Yes not like the picture at all

Lesley tilbury

- 20-Aug-17 @ 3:51 PM

Made sponge cakecame out like a pudding tasted nice but not right...i cooked it on 180for 30 minsit didnt say what to put oven on ????what did i do wrong..

Lesley tilbury

- 20-Aug-17 @ 3:49 PM

Wish I had read comments first! Way too much butter. Result was greasy and dense - disgusting and bin bound

Bunsbunny

- 5-Jun-17 @ 11:27 PM

Awesome recipe I love sugar but this takes the cake both my children love the cakes I make now thanks to this recipe .

Stardust

- 25-Apr-17 @ 11:14 AM

I tried the sponge mixture and it turned out dense,and very greasy.wont try again

Squeaky

- 7-Apr-17 @ 12:55 PM

Dudders - Your Question:

How is this 'sugar free'? 3 tablespoons of honey is a lot of sugar! Guess you mean sucrose free. Nectar contains the sucrose a disaccharide comprised of linked glucose and fructose molecules, and the monosaccharides glucose and fructose (the proportions vary). Enzymes produced by the bees split the sucrose into its monosaccharide components. So honey ends up as glucose and fructose plus a few trace elements.

---

Our Response:

As we say in the site's description, these recipes are for people who want to make a start towards cutting down on refined sugar.

SugarFreeRecipes

- 27-Mar-17 @ 12:34 PM

How is this 'sugar free'?3 tablespoons of honey is a lot of sugar! Guess you mean sucrose free.Nectar contains the sucrose a disaccharide comprised of linked glucose and fructose molecules, and the monosaccharidesglucose and fructose (the proportions vary). Enzymes produced by the bees split the sucrose into its monosaccharide components. So honey ends up as glucose and fructose plus a few trace elements.

Dudders

- 25-Mar-17 @ 9:56 PM

Liz - Your Question:

Hi we made the first recipe today for our daughter's first birthday. We doubled the ingredients and used butter instead of margarine and made the cake 2 tier. We cooked it for 10 minutes less as it looked ready. Whilst it was not dense it worked really well with whipped cream and home made sugar free jam, and fresh blackberries and raspberries poles on top. No complaints from guests. It isn't light and fluffy and is a little different but we wanted something the kids could tuck into and it certainly ticked all boxes for us.

---

Our Response:

Great to hear this. It's not always easy to achieve the same results without using sugar but as long it tasted and looked good, that's what matters!

SugarFreeRecipes

- 28-Feb-17 @ 9:47 AM

Hi we made the first recipe today for our daughter's first birthday. We doubled the ingredients and used butter instead of margarine and made the cake 2 tier. We cooked it for 10 minutes less as it looked ready. Whilst it was not dense it worked really well with whipped cream and home made sugar free jam, and fresh blackberries and raspberries poles on top. No complaints from guests. It isn't light and fluffy and is a little different but we wanted something the kids could tuck into and it certainly ticked all boxes for us.

Liz

- 26-Feb-17 @ 9:43 AM

Well I sympathies with those who diabetic and such my wife has problems with gluten both grandchildren with dairy and despite years of being great pastry and cake maker I gave up trying to find solutions to gluten baking itdemands increased sugar and does not keep in laws have sugar problemsI came up with sugar free xmas puds (sorry no sugar added) using fruits in natural juice and fresh persimmonand such and they were excellentnever wasted a taste no one refused them but please stop believing these online muppetspromising these results you waste your money trying them and end up frustrated and broke just make cakes as they should be and eat small amounts as a treat so bodies can cope safely all in moderation is always best way and enjoyyour food not waste it """special treat""" Sunday tea come on bin these tossers

Pieman

- 20-Dec-16 @ 9:59 AM

I made this cake and it was awful it was very dense and was not like the picture shown on the recipe.

Andy

- 22-Oct-16 @ 11:11 AM

Well I didn't think you made it very clear at all that these are "low" sugars when the headline says in bold print "No sugar sponge cakes" Honey is still sugar so that's completely at odds with the entire headline. No doubt part of what bumps you up a Google search nicely which us what lead me here. The recipe with honey is useless to diabetics who are most likely the ones Googling sugar free sponge cakes like I just did!

Rich

- 4-Sep-16 @ 4:33 PM

I've just tried the top recipe. It didn't work at all!!!! Wasted a lot of ingredients on something that tastes more like Yorkshire pudding and is really dence. Would not recommend!

Libby X

- 21-Aug-16 @ 4:38 PM

Don't be fooled - Your Question:

This cake is NOT sugar free. Honey contains fructose, which causes our livers to become fatty, amongst other problems. Please update your recipes as using items such as honey increases blood sugar.If you're using honey and other syrups you are not going sugar free. Sorry to burst your bubble.

---

Our Response:

We make this clear on the site's description - it's for anyone seeking to start reducing "refined" sugar from their diets.

SugarFreeRecipes

- 10-Aug-16 @ 2:18 PM

I tried the top recipe as I'm trying to cut down on refined sugar and would like something for my toddler that is not full of sugar. I baked it as cupcakes and It worked really well. The texture wasn't as light as a normal sponge, but it is nota normal sponge. Going sugar free means having to make adjustments. I'm going to try creaming the honey and margerine to see if it makes a difference. My 2 year old broke into the fridge to get the cakes! Will try it again ??

kingrollo

- 7-Aug-16 @ 9:15 AM

Wow! wonderful taste excellent texture and i'm very very happy for the results! I live in venezuela and with the government's problems there's a los of missing products such as milk, sugar, butter etc, but the most difficult to find is the sugar so I'm very happy that this recipe is made with honey! thank you and congratulations of these wonderful recipe!

Eli84

- 19-Jul-16 @ 7:03 PM

I tried this recipe because friends at work are diabetic and they always miss out on the lovely cakes , biscuits and treats people bring in , so got some diabetic jam And whipping cream and fresh fruit to decorate, followed the recipe except did not put Honey in as surely that not good to put into a diabetic receive. I make lovely sponges like my mum did and have been baking since I was young but this receipegave me my first disaster only fit to feed the birds not like the picture at all. Disappointed

Maz

- 17-Jul-16 @ 3:22 PM

I read all the ingredients and with margerine instead of proper butter in all of them and Three tbsp granulated sweetener (Aspartame to you and me) in one I won't be eating any of these.

Dolly

- 28-Apr-16 @ 12:32 AM

I made the beautiful looking sponge at the top of page...it came out like a biscuit & as I thought it must be me, I wasted another batch of ingredients as it came out just the same && as it was for my grandsons birthday party the next day I didn't have time or any ingredients left to try someone else's recipe...PISSED OFF I just wish I had read all the otherBAD comments !!!!Do not try this recipe !!!

lou lou

- 15-Jan-16 @ 6:47 PM

Couldn't agree more with the disaster stories. This recipe is a complete waste of time and money. I spent the morning making this cake for my son's friend who is diabetic. The cake took ages to bake then once it came out was nothing more than a stodgy mess. Shame these comments weren't at the top of this page, I wouldn't have been so inconvenienced!

Tracey

- 22-Nov-15 @ 3:55 PM

I made this "sponge" for my Dad's 92 Birthday.What a disaster!It is more of a Scone Dough type recipe.Haven't got time to bake another cake so am going to disguise it with a Cream Cheese (low fat) and lemon zest icing sweetened with Stevia, then throw fresh sliced strawberries over the top and grate some sugar free dark chocolate over that.I'm hoping the crazy topping will avert everyone's eyes away from the cake fail.I agree with past comments that it is better to just bake a traditional Victoria's Sponge and serve small portions.

Kiwi Cook

- 18-Sep-15 @ 11:46 PM

Thanks for the recipe! Worked really well! Good rise, nice 2 inches. Tasted amazing, however I did sub honey for rice syrup which is 0% fructose.

saint

- 2-Sep-15 @ 6:20 PM

Thank you for wasting my money. 2 attempts of making as a birthday cake for Gran have had to go and buy one from the supermarket. Like someone has already said, resembles a pancake rather than a victoria sponge cake.

vicks

- 20-Aug-15 @ 3:23 PM

What a waste of ingredients and time! Terrible cake that may as we'll be called a pancake recipe not a sponge cake. DONT WASTE YOUR TIME.

Expertbaker

- 25-Jul-15 @ 6:18 PM

No reason not to sub honey for sugar in cake as long as you reduce the other liquid a bit as well. However, I just want to clarify (since there are a number of comments here) that if you are diabetic, these cakes will still significantly raise your blood glucose levels. Honey is little different from sugar in this respect (though some artificial sweeteners are carb free) and this (and most) cake is still very carb heavy as it is mostly made from flour (which will be converted to glucose in your body). That's not to say that these won't be perfectly nice cakes, but assuming that they are any more or less suitable for people with diabetes than any other cake is misguided. (As someone with T1 diabetes myself, I prefer just to eat smaller portions of "real" cake rather than cakes made with sweeteners, though the honeyed one sounds like it might be tasty, regardless of it's sugariness!)

MissWhiplash

- 20-Jul-15 @ 1:34 PM

Could not agree more with what Kate has already said. I too am an experienced baker who thought I would make this for an old friends birthday. Disaster. Tomorrow I will be making a proper Victoria sponge and he will have to make do with a smaller slice while the pigeons eat this. Hope the RSPB don't find out.

DelQ

- 8-Jul-15 @ 7:46 PM

made this today I'm an experienced baker did everything right although while making it I felt this is pancake batter but with your picture in mind I told myself NO this is going to be Amazing, I wish you could see it its dense heavy pure waste of ingredients, where you got the photo from must have been from a totally different cake. big O for this one, I should have trusted myself, bit pissed off actually.

Kate

- 24-Jun-15 @ 7:38 PM

I made the marble cake, rose beautifully while in oven once left out to cool cake lost size and went flat, good job you don't have to cut in half as you'd need to make 2 cake's then put 1 on top of other, 2015.

swamp-duck

- 14-Feb-15 @ 4:39 PM

Dear sugar free recipes. I have made 3 Victoria sponges this week! Your recipes are easy to follow and measured correctly they come out amazing. I am diabetic and take insulin, I can confirm as long as I add the slice in my daily allowance of sugar intake and don't go over board I have not had any issues from honey or being over my sugar levels but I must add not everyone is the same when it come to levels so check first, etc. I am so pleased with the recipes that I am making other items from your larder! Thank you Bob

Bob

- 12-Dec-14 @ 9:06 PM

Can these above cakes be baked in microwave? If yes what is the procedure?Please guide me.

Madhavi Jadhav

- 6-Aug-14 @ 12:34 PM