No Sugar Carrot and Courgette Cakes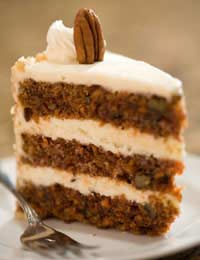 It's amazing just how sweet vegetables can become when baked in cakes. Some can be grated and stirred in to give an almost fruity flavour.Carrot cake must now be one of the most popular cakes for slicing into at teatime. It's easily made without sugar – and is always sweet and delicious. Try a cream cheese topping on it, which can also be whipped up quickly without sugar.
A great alternative to carrot cake, however, is courgette (or zucchini) cake. Courgettes can be grated and used in cakes in much the same way as carrots. Few people make this version but it is just as moist and flavoursome as its carrot equivalent.
Sugar Free Carrot Cake
This is a very filling, moist cake. Nuts give it extra bite but can easily be removed if someone suffers from an allergy.
Ingredients:
200g (7oz) butter
Five tbsp honey
Four large eggs
500g (1lb 1oz) grated carrots
150g (5oz) chopped walnuts
300g (10.5oz) plain flour
Two tsp bicarbonate of soda
Pinch of salt
One tsp ground allspice
For the Filling and Topping:
250g (9oz) cream cheese
Four tbsp sugar free apricot jam
Method:
Preheat your oven to 180 deg C/350 deg F/gas mark four. Grease a 20cm (eight ins) cake tin.
Melt your butter and honey in a small pan over a low heat. Place your flour, salt, bicarbonate of soda and allspice in a large bowl. Mix in your hot liquid. Beat your eggs then add to the mixture too. Grate your carrots then stir them into the batter, along with your chopped nuts. Pour into your tin and bake in the centre of your oven for about 40 minutes or until cooked all the way through, and a skewer comes out clean.
Remove from the heat and allow to cool. Beat your cream cheese with your sugar free apricot jam. Once cool, cut your carrot cake in two. Spread your cream cheese mixture inside and on the top.
Sugar Free Courgette Cake
This recipe for courgette cake is simply delicious. Also, by avoiding the use of eggs and nuts, it may be ideal for some people with allergies, as well as those keen to avoid sugar.
Ingredients:
200g (7oz) butter
300g (10.5oz) plain flour
Two tsp bicarbonate of soda
One 250g jar of sugar free apricot jam
500g (1lb 1oz) grated courgette
One tsp vanilla essence
Splash of full fat milk
Two tsp ground cinnamon
Method:
Preheat your oven to 180 deg C/350 deg F/gas mark four.
Cream your butter and two thirds of your sugar free apricot jam together in a large bowl, until light and fluffy. Add your vanilla essence and a splash of full fat milk. Grate your courgettes and stir in (do not bother to peel first). Add your plain flour and bicarbonate of soda. Stir thoroughly again.
Grease a 20cm (eight ins) cake tin and pour the mixture in. Bake in the centre of the oven for approximately 30 minutes, or until golden brown and an inserted skewer comes out clean. Allow to cool before removing from the tin. Slice in two and spread the remainder of your sugar free apricot jam inside. Sprinkle on top with ground cinnamon – and slice.
You might also like...
Well I followed this recipe to the letter and had the oven on the correct temp (my oven is only a week old). It didn't cook in the middle. I'm really annoyed, I have wasted money on ingredients, the cake is now in the bin! I spent all afternoon putting it back in the oven and it still didn't cook. I'm not amused!!!
Nikolai
- 10-Apr-16 @ 6:45 PM
jo - Your Question:
Five tbsp honey.looks like sugar to me. when you say sugar free in recipe's make sure it is. so fed up with misleading information.
---
Our Response:
We do say that our recipes are for those trying to cut down on refined sugar.
SugarFreeRecipes
- 29-Mar-16 @ 12:43 PM
Five tbsp honey.....looks like sugar to me. when you say sugar free in recipe's make sure it is. so fed up with misleading information.
jo
- 27-Mar-16 @ 12:16 AM
I don't understand why this is called a sugar free recipe. Honey IS sugar and can contain just as much of the nasty fructose.
Sue Quinn
- 9-May-14 @ 11:35 AM
Was really disappointed in the courgette cake, should of trusted my instincts and added some liquid.
bernadette
- 27-Apr-14 @ 6:22 AM
Actually there is a sugar-free honey. I bought some at Walmart.
You really shouldn't advertise this as sugar free when it's loaded with honey, honey is just sugar by another name. You really shouldn't advertise this as being appropriate for diabetics.
Farro
- 15-Nov-12 @ 10:05 AM
I avoid eating sugar or wheat as these two products are the main causes of obesity, diabeties, high blood pressure and more.I use xylitol, which is a different type of sugar that doesn't cause the fluctuations in blood sugar.Another alternative is stevia although I have never tried that one myself. Honey is also another good product to substitute for sugar and I use frequently.I am no expert but have done lots of research, check out the products for yourself on the web to see what I mean.Also check out the use of spelt in place of wheat.
ross
- 6-Nov-12 @ 9:54 AM
How can anything containing honey be described as "sugar free"?Honey is digested as if it were sugar and therefore all the problems associated with sugar will be manifested with honey. I came to this site looking for "real" sugar-free recipes, not recipes that substitute sucrose with another sugar.
vermac
- 10-Jul-12 @ 5:32 PM
@cuddlyizzy that sounds lush, i will try that thanx. and thanx for the advise on cream cheese now i can buy the right ingrediants for a yummy sugar free cake x
moonstar1
- 19-Apr-12 @ 5:12 PM
Thanks Cuddllizzy - sounds like a good recipe. We have to point out that many fruits such as grapes (sultanas and raisins are dried grapes) are high in natural sugar (fructose) so should be eaten in moderation by diabetics and people trying to lose weight (or just eating a healthy diet!)
SugarFreeRecipes
- 19-Apr-12 @ 11:44 AM
@moonstar1 -can't really comment on commercial products here but Truvia has been positively received by diabetics. As for cream cheese, yes anything soft, spreadable - usually comes in a tub, but can be bought fresh in a block (like butter) too.
SugarFreeRecipes
- 19-Apr-12 @ 11:39 AM
Just to add to sugar free/fat free fruit cake recipe I bake it in a tray bake tin.
Cuddlyizzy
- 18-Apr-12 @ 3:41 PM
I have type 2 diabetes and make a cake with no added sugar or fat. Soak 1lb of mixed fruit with a mug of strong tea for 24hrs, to this add 6oz SR Flour with 1teaspoon of mixed spice and 1beaten egg. Bake in a moderate oven approx 45mins....or as required. Cuts into a few slices and is better than no cake at all. Good luck
Cuddlyizzy
- 18-Apr-12 @ 3:40 PM
I want to know 2 things 1-is Truvia better to use than canderel as its a natural sweetner and my 2nd question what do you class as cream cheese?? its been driving me mad is philidelphia a cream cheese or another spreadable cheese?
moonstar1
- 18-Apr-12 @ 3:08 PM
HI Scalpie. Unfortunately there aren't really any substitutes. Even natural sugars such as those found in fruit (fructose) are not good for diabetics in large quantities. Non-nutritive sweeteners/sugar substitutes (such as aspartame) etc can be used for the occasional cake - and don't have the same effect on blood glucose levels as sugars - but there are concerns about use of these in large quantities because of the chemicalsthey're made from. Most diabetics can have the occasional cake or chocolate etc as long it's a limited part of a healthy balanced diet.
SugarFreeRecipes
- 6-Feb-12 @ 9:50 AM
My husband has Diabetes Type 2 and is quite adamant that he can't have honey on the advice of his diet sheet he had from his doctor's surgery, so is there any other substitute that can be used?I've only been able to find 1 cake recipe so far that uses pure fruit juice, rind from an orange or lemon and fruit like blueberries, so it would be nice that as diabetes is on the increase, someone could could come up with some really good ideas to accommodate this
Scalpie
- 5-Feb-12 @ 1:28 PM