Sugar Free Brownies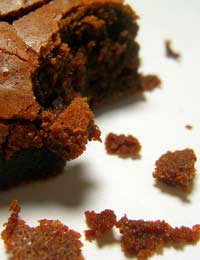 Chocolate brownies are wonderful – partly because they are so delicious but also because of their versatility. These tasty treats can be eaten as a snack with a cup of tea, wrapped and popped into pack lunchboxes or served as a dessert after dinner with a scoop of ice-cream. But best of all, if you are avoiding sugar you don't necessarily have to avoid chocolate brownies! Try making your own sugar free varieties.
Chocolate and Honey Brownies
These melt in the mouth sugar free brownies will disappear as soon as you've put them out on the cooling rack. Try serving them with some sliced fresh fruit in the summer or warmed, with a little whipped cream on the side, in winter.
Ingredients:
250g plain flour
200g butter
Three eggs
Four tblsp honey
150g cocoa powder
One tsp baking powder
A pinch of salt
Method:
Begin by preheating your oven to 180ºC/350F/gas mark four. Then dig out a 30cm by 22cm baking tray and line it with greaseproof paper. Place your butter, cocoa powder and honey in a medium-sized bowl over a pan of simmering water and stir gently until melted. Beat your eggs in a separate bowl. Sieve your flour and baking powder in yet another bowl. Then remove the chocolate from the heat and quickly whiz in the eggs. Then fold your dry ingredients in slowly. Spoon your mixture into your baking tray and place in the centre of the oven. Baking should take approximately 20 minutes. The top of your brownies need to be firm to the touch but a skewer inserted in the middle needs to come out slightly sticky. Leave to cool on the side for a few minutes, then cut into squares and place on a rack. Serve either while still warm or eat at your leisure once cool.
Sugar Free Fruit and Nut Brownies
These delicious brownies have a few extra ingredients. Why not try them if you fancy a slight variation on the more traditional chocolate brownie recipe – something a little more luxurious perhaps? Sugar free fruit and nut brownies make particularly nice treats at Christmas.
Ingredients:
200g unsalted butter
240g plain flour
100g cocoa powder
Three quarters of tsp baking powder.
Four tblsp honey
Three large eggs
A handful of dried cranberries
A handful of mixed chopped nuts
Method:
Once again, begin by preheating your oven to 180ºC/350F/gas mark four. Then take a 30cm by 22cm baking tray and line it with greaseproof paper. Cut your butter into pieces and place in a medium-sized heat proof dish along with 200g of your cocoa and honey. Boil water in a pan then place your bowl on top and stir until melted. Meanwhile, in a large bowl sieve your flour and baking powder. In a separate bowl beat your eggs. Remove your melted ingredients from the heat then quickly stir in your eggs. Fold in your flour and baking powder, then your cranberries and nuts.
Spoon your mixture into your lined baking tray and position in the centre of the oven for about 20 minutes or so. It is important not to over-cook brownies. The top of your mixture needs to be firm to the touch and a skewer pushed in needs to come out slightly sticky - the mixture should seem not quite cooked in the very middle. When ready, remove from the oven and leave to cool on the side for a few minutes, then cut into squares and place on a rack. Once cool, sieve your remaining 40g of cocoa powder and dust your brownies lightly.
You might also like...
Awful recipe, stay away! I thought the process was slightly odd and the batter was like dry and crumbly. I added some milk to make it smoother which helped. Once out of the oven I have to say that they were not remotely nice. They tasted like cardboard. In the future I'll make my brownies the traditional way and just swap the sugar for honey.
Dempsey
- 22-Mar-17 @ 1:26 PM
Simply the worst recipe! I have wasted my time and money for the ingredients, I'm very disappointed. Already when mixing, it all looked super dry, no dough was actually formed. And sure enough, it came super dry, inedible. I have made a mistake as I have not looked at the comments below, now I know to follow recipes that are tested by others and recommend. This one for sure is a crap!
Glad a read the comments first, trying to do sugar free February, so used a fruit sugar syrup instead of honey and added milk to improve the batter. Suspect these will be very bitter because of the ammount of cocoa so will be cutting into small pieces for work colleagues tomorrow to have at our morning break.
KWarner73
- 5-Feb-17 @ 3:41 PM
I have a toddler and thought I'd try this recipe.They tasted so bitter and ended up in the bin. 4 tbsp of honey is not enough as suggested.
Roo
- 21-Nov-16 @ 7:52 PM
Absolutely disgusting! Far, far too much cocoa in the recipe. I had to add milk to bring the mixture to a semi-decent consistency..hard, dry, tasteless .. a complete waste of time & money!
Irishwife
- 26-Aug-16 @ 1:00 PM
Not sure what problem everyone else had, mine were lovely! I used 100g of self raising and 150g of plain flour as we didn't have any baking powder, they came out like chocolate cakes rather than brownies but were very nice! Dusted with ice sugar they did not disappoint
Katie
- 25-Jul-16 @ 1:59 PM
Take this recipe down please or modify it so it works. I have just wasted time and money on this, having not read the comments. Take it down - you are wasting food and people's precious time.
Cost of ingredients?
- 25-Jun-16 @ 12:13 PM
Just made these with my 3 year old daughter. While we enjoyed the process the end result is a MASSIVE disappointment. To say they are dry is an understatement, they resemble volcanic rock! Having never made brownies before it didn't occur to me that the recipe might look odd. Really wish I had read the comments before we baked. Luckily my daughter isn't disappointed and was quite happy to have a couple of chocolate digestives for dessert instead!
Em31
- 27-Apr-16 @ 7:00 PM
I reduced the company 75g, added 70% cocoa choc chips and a tsp vanilla extract. I also put the batter in a smaller, square tin. Best brownies I have made, very gooey
Vic285
- 18-Jan-16 @ 2:31 PM
i am so sorry but these are the worst brownies I've ever had. i should have looked at the comments first. it was so bad i had to cover it with strawberries and blueberries and blowtorch melted sugar onto it to make it even slightly edible. i am not at all impressed. sorry that was a bit harsh. i think you should stop doing sugar free treats and make things with sugar in. but with this, i am extremely disappointed. again I'm sorry. better luck next time. Dyl
dyl
- 23-Oct-15 @ 7:42 PM
Should have read the comments. Far too dry and could have done with less coca.
@none. Yes you're correct...when this site was written it was aimed at reducing the amount of refined sugar in people's diets. These recipes should still be regarded as 'treats' to have occasionally and in small quantities. They are not suitable for diabetics or those trying to lose weight.
SugarFreeRecipes
- 25-Jul-14 @ 12:46 PM
How can these recipes be called 'sugar-free' when they contain honey (100% sugar) and dried fruit (fructose which turns to sugar)
none
- 24-Jul-14 @ 2:52 PM
I added quite a lot of milk to my batter, to get it to the consistency of regular cake batter, and the brownies came out really well. I also added a bit more honey. It just needs the liquid to stop it being like concrete!
alice denyer
- 28-Jan-14 @ 6:29 PM
Wish I had read the comments before trying the Brownie recipe. At first I thought I'd done something wrong but I don think so. It's really disgusting, sorry. Very bitter and leaves a horrible taste in my throat. I've made these for a friend and I'm considering re-doing these because they are really bad. The texture is totally wrong as well. I even accidentally added one extra egg and it was still so dry. Definitely too my dry ingredients, was quite surprised it says 150g cocoa powder, seems like far too much?
Shiv
- 1-Jan-13 @ 3:24 PM
just changed my mind. BBLLEEAACCH!
Professer of agricul
- 19-Sep-12 @ 5:29 PM
The brownie recipe is definitely wrong.I tried it and it was inedible.I think there is far to much cocoa powder involved I think maybe it should be 50g NOT 250g?? I will certainly try again with less cocoa powder I think max cocoa powder should be 100g and even then I think that's pushing it. What a waste of ingredients. :o(
The brownie recipe didn't work at all sadly. The mixture was too dry and had too much cocoa in. Hopefully can salvage the results by crumbling and turning into truffles with sugar free jam
Nev
- 17-May-11 @ 10:52 PM