Sugar Free Sweets to Make With Children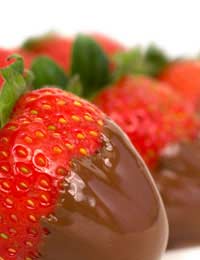 Children love baking and cooking - and what could be more fun than making sweets?These sugar free sweets make healthier alternatives to the sweets youngsters traditionally make and then munch their way through!Encourage them to have a bit of fun while they are cooking with you. Let them come up with some of their own ingredients and consider how these could be worked into your dish.
Chocolate Orange Faces
This is a delicious rich sugar free sweet that children will love. It has a fresh, orangey flavour and they can top it off by making their own funny faces from tiny pieces of shredded orange peel.
Ingredients:
400g (14oz) cocoa
Five tbs honey
250ml double cream
30g (1oz) butter
Two sweet oranges

Method:

Melt your honey, butter and cocoa powder together in a medium pan over a low heat. Stir until completely dissolved. Keeping your pan on a very low heat, gently stir in your cream. Remove from the heat and allow to start cooling. Squeeze your oranges and save the peel. Stir the juice into your cooling liquid. Carefully scrape the pith from the remaining orange peel and cut the peel into tiny circles for eyes and strips for mouths. Grease an 18cm fudge tin and pour your liquid in.

Once it is completely cool, place in the fridge and allow to set over night. Place your tiny peels of cut peel on a place in the fridge too. When the chocolate is set, remove from the fridge and cut into squares with a sharp knife Take your orange peel and make a face on each square. The chocolate should still be soft enough to press the pieces into it. You could even make hair, glasses and moustaches from the shreds of peel too!

Chocolate And Strawberry Shapes

These sweets can be cut into whatever shapes you choose. Try buying seasonal cutters and cutting out sweet Santas, pumpkins or Easter eggs, depending on the time of year.Adorn your sweets with pieces of chewy fresh strawberry if you choose. Use the pieces of fruit to make faces, animal spots or just decorations.

Ingredients:

150g (5oz) cocoa powder
Two tablespoons sugar free strawberry jam
150g (5oz) soft ground almonds
One small egg
Handful of fresh strawberries (optional)

Method:

Melt your cocoa powder and sugar free jam in a small pan. Pour your almonds into a bowl and slowly add the hot liquid. Beat your egg, then add it to the mixture, little by little, until you have a good paste. Place in the fridge and allow to harden. Take your mixture and roll out on a surface that has been lightly dusted with cocoa powder. Take your cookie or sweet cutters and cut into shapes. Place each shape on a lightly greased baking sheet and place in the fridge to set.

If you want to dress your sweeties up further, try taking a handful of fresh strawberries, washing and hulling them, then chopping them up and lightly grilling the pieces for a moment or two. Then press your chewy strawberry pieces into the top of each sweet shape to decorate.

You might also like...