Fine Fruit Tartlets Without Sugar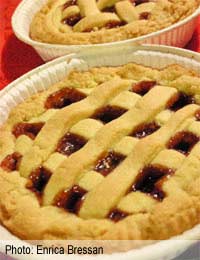 If you are planning a dinner party nothing looks quite so elegant upon a plate as a fine fruit tartlet, served with fresh fruit, a colourful coulis or fresh cream. The vast majority of these tartlets will of course have been made with sugar as a key ingredient but don't be frightened of having a go at a sugar free version too. They can look just as impressive and will also taste delicious.
Remember too that the fruit content can often be changed, depending on the season, and you can, of course, serve them up with a variety of accompaniments.
Fine Cherry Tarts
Based on the traditional Bakewell, this is a much finer tart. Use sugar free apricot jam as your sweetening ingredient.
Ingredients
150g (5.5oz) butter
Two medium eggs
150g (5.5oz) ground almonds
50g (1.5oz) plain flour
350g (12oz) fresh cherries
A handful of flaked almonds
120g sugar free apricot jam
200g (7oz) soft margarine
250g (9oz) plain flour
Method
First make your pastry. Do this by placing your margarine in a medium bowl and gently forking in one tbs plain flour and one tablespoon cold water. Mix until you have a paste. Slowly add the rest of your flour until you have a pastry-like dough. Wrap in cling film and place in the fridge to chill for about an hour.
Preheat your oven to 180 deg C/ 350 deg F/gas mark four. Remove your chilled pastry and roll it out thinly on to a surface that has been lightly dusted with flour. Up end your small tartlet tins on to the pastry and cut circles of the same size. Lightly grease the tin and place the circles inside. Press down gently.
Then take a large bowl and in it beat your butter with about 150g of your sugar free apricot jam. Beat the eggs in a separate bowl then add to the buttery mixture. Spoon in your ground almonds and then slowly fold in your flour.
Wash and stone your cherries, carefully removing any pieces of stalk as well. Cut the fruit in half and place them on top of the pastry. Spoon the mixture on top then sprinkle on a few flaked almonds. Bake in the oven for about half an hour or so. Meanwhile, melt the remaining sugar free jam in a small pan over a low heat. Then brush on to the tarts to create a glaze.
Mini Lemon Fruit Cheesecakes
These delicate cheesecake tarts are always a wow at dinner parties. Once again, serve individually on plates as a fine sugar free dessert.
Ingredients
Two fresh lemons
500g (approximately 1lb) cream cheese
100g (3.5oz) fresh strawberries
100g (3.5oz) fresh raspberries
100g (3.5oz) sugar free apricot jam
200g (7oz) soft margarine
250g (9oz) plain flour
Method
Follow the instructions above for making your pastry and your tartlet cases. Instead of filling the cases before baking, however, bake them blind then fill once cooked. Make your sugar free cheesecake filling by blending your cream cheese with the juice of your lemons and your sugar free jam. Spoon the mixture into the cases and spread to fill.
Wash, hull and chop your fruit into quarters. Decorate the top of each cheesecake tartlet then chill overnight. Serve each individual dessert on a plate with a generous blob of cream and a pile of leftover raspberries and strawberries.
You might also like...